"Over the next few months, we will be planning fun, interesting and rejuvenating events: Picnic in the lavender, forest trails, relaxation time by the stream, yoga classes, group visits, workshops… We will have a great summer!!
Leave us your email address so we can keep you up to date with garden tours, upcoming flowering dates and hot promotions! "
Progress of our activities in 2021
Saturday July 31
•  official opening of the Aromes & Saveurs Gardens, parents, friends and neighbors
• opening to the public
• The Aromas and Flavors Team at the start
June 2021

• The Arômes et Saveurs team from the very start in June.
• From left to right, Anne and Koralie, Caro and Michèle, Dominique and Colombe.
August-September: Picking of lavender and fine herbs – Drying in bunches.
 It was with great pleasure that we welcomed a group from Habitations Bordereau on July 28th 2022.
With young hearts and alert minds, our guests were able to learn about cultivating lavender, taste lavender honey and meet our hens whom are treated with essential oils.

Thanks to Marie-Pierre from Habitations Bordeleau for this initiative!
See you soon for a visit in our trails!
September 10, 2021: Visit of a group from Les Habitations Bordeleau
October 01, 2021:  Club des Marcheurs de Rawdon 
October 9, 2021: Yoga class in the lavender & Meditation by the stream, with
Mrs. Jade Marquis from Puressence.
Introduction to the job market:
for dynamic young people in the form of a day of mutual aid for young people (from 10 years old) who want to get involved.
Self picking of lavender bouquets:
Thank you to our young pickers:
Koralie, Kayla, Nora, Emelie-Anne and Zac
November 2021: Opening of five points of sale
Cuisine et Vous
799 rue St-Thomas,
Joliette, Qué.
Salon coiffure Puressence 
229 rue St-Adèle,
St-Charles Borromée, Qué.
Ferme Marc Leblanc
3756 chemin de Kildare,
Rawdon, Qué.
Maison Otis-Hôtel Boutique
23 St-Jean-Baptiste
Baie St-Paul, Qué. 
Sommet Charlevoix
15 ch. du Versant
Petite Rivière St-François, Qué.
November 15-17-19, 2021:
Visit of the 5 establishments at Les Habitations Bordeleau
December 13, 2021:
Christmas market at 
La Seigneurie A. Beauséjour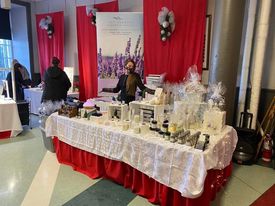 From November 27 to
December 23, 2021:
The Christmas Market of L'Assomption