Lavender cakes with lavender honey
Recette de Vanessa Romano
Culinary Photographer and Stylist, Fréjus, France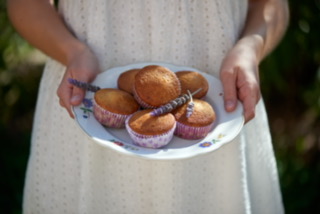 1 large egg
125 gr Kefir *
60 gr or 1/2 cup of almond powder
60 gr or 1/2 cup of whole grain or wheat flour
50 gr or 1/3 cup of sugar
1 C. lavender honey
1/4 tsp. baking soda
1 C. vanilla powder
Note: The kefir can be replaced by a 15% whipping cream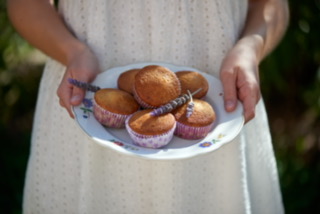 The day before, mix the lavender flowers and the sugar. Reserve overnight at room temperature in a closed plastic box so that the sugar soaks up the flavor.
The next day, sift the sugar to eliminate the unmixed flowers.
Then, preheat the oven to 180 C (350 F)
Meanwhile, mix the dough by mixing in a bowl, the lavender sugar, the kefir, the egg, the lavender honey, the almond powder, the flour, the baking soda and the vanilla powder
Use a whisk for this, and stop mixing as soon as the flour has been incorporated.
Line the muffin cups with the baking papers and divide the batter into these cups.
Bake for 15 minutes.
Enjoy as is or with fresh cream and strawberries.